Your pet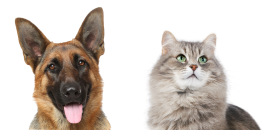 Categories
Transport box Petmate Ultra Vari Kennel Fashion M
Meets IATA guidelines for air transport
W 53 x L 71 x H 56 cm, for dogs from 9 to 13,5 kg
- Meets IATA guidelines for air transport
- W 53 x L 71 x H 56 cm, for dogs from 9 to 13,5 kg
Made from 100% recycled materials and made in America. For comfort and safety, both at home and on the road.
Safe, private place at home
Ideal for training use
Comfortable, without sharp edges
Durable, strong and weather resistant
Protects both your pet and your home
Available in multiple sizes
Carefree travel by car or plane
Includes food/drink trough
- Optimal view and ventilation for your pet, because of the unique design.
- Very easy to assemble due to the metal bolts and plastic nuts.
- The doors are fitted with a spring lock which makes escape impossible.
- The combination of steel wire and plastic provides extra strength, safety and visibility.
- The outside of the bottom is lowered, so in case of an accident a pet does not have to lie in its own urine.
Important: Petmate Kennels amply comply with IATA guidelines. (International Airline Transport Association)
Weight
M For animals from 9 to 13.5 kg
L For animals from 13.5 to 22.7 kg
XL For animals from 22.7 to 31.7 kg
XXL For animals from 31.7 to 40.8 kg
Format
M 53 x 71 x 56 cm
L 58 x 81 x 61 cm
XL 64 x 91 x 69 cm
XXL 69 x 101 x 76 cm
EAN: 029695215612
Shipping costs
The shipping costs depend on the destination country and the weight and size of the parcel. The shipping costs are separately shown during the ordering process, before you pay.
For an overview of the shipping costs per country, click here.
Returns
Are you not satisfied with your purchase? Please let us know immediately by email at info@petwareshop.com.
You can return your order within 14 days after receipt.
Returned articles must be complete and - as far as reasonably possible - in the original factory condition and packaging.
For more information about returning shipments, click here.
All product reviews collected through Trusted Shops
There are yet no reviews for this product.
Ask a question
When can the product be delivered to me?
Not all products are on stock; some products need a longer time before we can ship it to you. We always mention this availability, below the green order button "Add to cart".
Available from stock = the product is in stock. If you place your order before 15:00 it will be shipped on the same working day.
Shipping within: "X" working days = the product is not in stock. We strive to ship it out in "X" working days.
Do you have another question?
Please fill out the form below.
Transport box Petmate Ultra Vari Kennel Fashion M
Meets IATA guidelines for air transport
W 53 x L 71 x H 56 cm, for dogs from 9 to 13,5 kg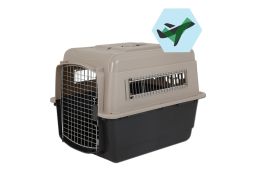 Other products from our range
Related categories